Anyone participating in ASPB's annual meeting,
Plant Biology 2011
, will definitely want to stay through the meeting's final session, the ASPB President's Symposium on Plants and BioEnergy.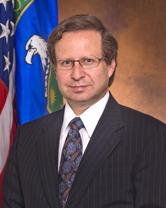 Kicking off the session will be one of the nation's chief advocates for renewable energy research—
Dr. Steven E. Koonin
(at right), who is Under Secretary for Science at the Department of Energy (DOE). A computational and nuclear physicist, Dr. Koonin served as a faculty member at the California Institute of Technology for nearly 30 years including nearly a decade as Caltech's provost. He was most recently chief scientist at BP before being confirmed as DOE Under Secretary in May 2009.
Dr. Koonin will be followed by the leaders of several DOE-supported
Energy Frontier Research Centers
(EFRCs). The EFRCs are harnessing the most basic and advanced discovery research in a concerted effort to establish the scientific foundation for a fundamentally new U.S. energy economy:
Maureen McCann, Center for Direct Catalytic Conversion of Biomass to Biofuels (C3Bio), Purdue University: "A roadmap for selective deconstruction of lignocellulosic biomass to advanced biofuels and useful co-products"
Richard Sayre, Center for Advanced Biofuel Systems (CABS), Donald Danforth Plant Science Center: "Molecular strategies for enhanced biomass and oil accumulation in microalgae"
Robert Blankenship, Photosynthetic Antenna Research Center (PARC), Washington University in St. Louis: "The Photosynthetic Antenna Research Center (PARC)
Andrew Bocarsly,

Princeton University

: "Artificial Photosynthesis: The Efficient Reduction of Carbon Dioxide and Water to Organic Products"
The session will be held in room L100 of the Minneapolis Convention Center from 2:00 until 5:05 p.m.