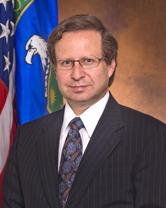 Steven Koonin has announced that he is stepping down from his position as Under Secretary for Science at the U.S. Department of Energy (DOE).
Science

Insider reports
that he had been looking around for some time, because his position did not allow him enough power, especially over the budget for the DOE Office of Science. That office is lead by William Brinkman. Michael Lubell with the American Physical Society was quoted as saying, "Here was a guy [Koonin] who had no budget authority, and that's a tough position."
Among other achievements during his 2.5 years at DOE, Koonin helped draft the agency's
strategic plan
and led its first Quadrennial Technology Review. He has also been connected to ASPB, including by speaking in the
ASPB's President's Symposium
on bioenergy at Plant Biology 2011 this past summer in Minneapolis.
Koonin has a background in theoretical physics and previously served as a professor and provost at Caltech. He also served as chief scientist for BP before coming to DOE. He will be joining the Institute for Defense Analyses' Science and Technology Policy Institute in Washington, D.C., upon his departure.
DOE has not yet announced who will be filling the vacated Under Secretary position.