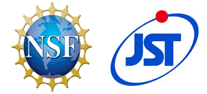 Several ASPB members are among those receiving grants from the joint "Metabolomics for a Low Carbon Society" program of the U.S. National Science Foundation (NSF) and Japan Science and Technology Agency (JST).
A total of $12 million (¥960 million) was awarded to four U.S.–Japan research teams to develop new environmentally-friendly techniques to increase the production of renewable biofuel and reduce pesticide use. These environmentally-friendly techniques will be based on studies of metabolites—chemical compounds that are produced in all living cells and are integral to a wide range of important and life-sustaining biological processes, including the ability of plants to fight disease-causing pests and the ability of photosynthetic algae to produce biofuel.
According to an
NSF press release
, scientists can currently identify and characterize the properties of only a small fraction of the 10,000 to 15,000 metabolites that exist in any given plant. Nevertheless, an improved ability to identify and characterize these pivotal compounds could lead to the development of entirely new and potentially breakthrough approaches for increasing biofuel production and reducing pesticide use.
The four funded projects will not only help increase biofuel production and reduce the use of pesticides, but will also advance the field of metabolomics—the study of all of an organism's metabolites. Metabolomics has exciting applications in varied fields, including environmental science, synthetic biology, medicine and predictive modeling of plant, algal and microbial systems.
Each project will be funded for three years, with the possibility of an additional two year extension. Each research team includes at least one U.S. researcher and one Japanese researcher.

The four funded projects, as described in a
press release
from NSF, are listed below:
"Research led by [ASPB member]

Lloyd W. Sumner

of The Samuel Roberts Nobel Foundation and [ASPB member]

Kazuki Saito

of the RIKEN Plant Science Center. This project will leverage advanced instrumentation to identify and characterize important metabolites related to biomass and oil production in plants. Also, the broad metabolic effects of gene-level changes affecting plant cell walls and oil synthesis will be identified. Through these advances, the project will inform efforts to improve plant cell wall material fermentability, produce energy-rich plant oils and provide resources for other metabolomics researchers.
Research led by

Oliver Fiehn

of the University of California at Davis and

Masanori Arita

of the University of Tokyo. This project will improve methods to identify metabolites used by photosynthetic algae to produce biofuel—information that will be used to boost the manufacturing of biofuel. Project activities include advancing techniques in mass spectrometry—a method used to estimate the mass of molecules—and developing a new, integrated mass spectrometry database that will be freely accessible to the research community.
Research led by

James Liao

of the University of California, Los Angeles and

Eiichiro Fukusaki

of Osaka University. The biofuel known as butanol—which can be produced by fermentation processes involving bacteria and yeast--—provides particular promise because it can be used to fuel cars. Through this study, photosynthetic bacteria will be genetically engineered to maximize butanol production based on comprehensive metabolic analyses of bacteria and yeast and on computational modeling.
Research led by [ASPB member]

Georg Jander

of the Boyce Thompson Institute for Plant Research in New York and

Yutaka Okumoto

of Kyoto University. Up to 30 percent of agricultural productivity is lost to insects and disease. Moreover, production costs soar every time a tractor drives over a field to apply pesticides. This project will help reduce such losses and costs by supporting the development of technologies that will better define natural disease-fighting processes in plants. As part of this effort, protective metabolites that stop attacks by insects and other disease-causing organisms in plants and genes responsible for producing these metabolites will be identified."
Congratulations to all of the research teams!